For so many years, I've been training executives in presentation skills and I must confess I've been quite a success at it. Whether it was young business executives or leaders at the top echelons in Mumbai, London, Berlin, or Singapore, I've been there, done that. It's a personal mission that I've been on; ensuring that bosses became better at their presentation skills and helping younger professionals get a firm grip on that professional ladder that could take them to the top.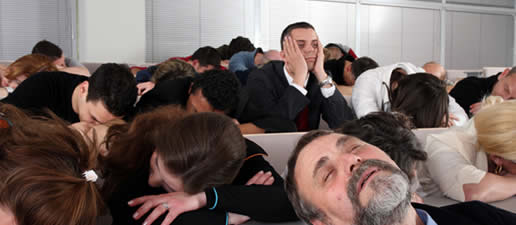 However, there are times when I ask myself whether these presentation skills training or high impact training( as the growing crowd of professional trainers like to call it now!) really helps everyone or is it just some executives who need it. Ask the people I have coached and they will tell you that it has been a great help, having their personal style and mannerisms assessed objectively, getting feedback as to what areas to change, what to strengthen, and what to say goodbye to. Whether it is voice modulation, eye contact, body language or portraying confidence, making the necessary changes is easy when you have a mirror held up to your imperfections.
However, in many cases, it is just a waste of time and money! So many executive just forget most of what they learned and go back to being their old selves soon after the course is done. Only for a few, there is a marked difference but for most, they settle into their old, familiar ways very quickly. What I will say is that presentation training skills are absolutely essential if you want to become a public speaker. And if public speaking is your objective, go and join Toastmasters International.
Adrian an investment banker in New Delhi , invested a ton of time preparing a business presentation to a key executive only to leave after his allocated 20 minutes was up. The client who was the CEO was confused what Adrian had brought to the table. Adrian and his global team thought that Adrian delivered with style and confidence. Business presentations desire a lot more than voice modulation, stance, dressing appropriately, or making sure that your presentation is riveting. Sure, these help but what you need to be aware of is what helps you connect, engage, and influence the business audience is your 'executive presence' and not these above content packaging techniques to get the points across.  This is where you need to take that call and decide whether or not you need to spend time and money on these 'high impact presentation training' skills or develop your executive presence to get ahead in the business world!
While you do that, here are a few points to ponder over. Remember that there just is no exact right way in which to present at work. Yes, you could learn the techniques of effective presentation but you also need to realize that very few successful business leaders use these techniques. Also, what appeals greatly to a particular industry audience might not to another. I remember  few years ago, a business presentation given by a  senior leader in Mumbai. There was a strong diverge opinions about his business presentation style in the same audience which was a mix from Asia and North America. Long story short, his business pitch bombed!
It really does not matter how great your presentation skills are. If your executive presence doesn't convey credibility, you will never be able to influence, persuade, and inspire the smart and talented business audience no matter what presentation style you adopt. The effectiveness of your business presentation is correlated to how credible a presenter the audience perceives about you. When you project a powerful presence you in turn display credibility and it is this credibility that helps your business message to come out powerfully.
What every presenter needs to guard against is coming off as fake. You need to let the authentic nature of your presentation as well as you as a person shine through. When you are an expert in your subject and you know how to project a powerful presence, there is little need for techniques or superficialities. All you need to do is to be yourself and let your work take pride of place. Once you make authenticity the main focus of your presentation, you are on the road to a winning clients and colleagues. Present naturally but in a convincing manner. You can only do that if you are totally convinced about what you are presenting. Then, you don't need other presentation trainers to tell you how to do it – do it your way.
Vikram Kalloo
Executive & Presentation Coach, Mumbai-London